This year's show will showcase hundreds of orchids in bloom from all over the world. Commercial growers will be offering unique quality species and hybrid orchids, plants, potting/planting/growing supplies, and fertilizer for sale. Our expert volunteer members will be teaching our popular Orchids-R-Easy© classes throughout the duration of the show. Hourly raffle will be part of the show (must be present to win). Plant Hotel available to house your purchases during the show.
Don't miss this fun filled educational, fragrant, coloful, entertaining event.

Spring Show and Sale
February 21-22, 2015
3330 Civic Center Drive
Torrance, CA 90274

Our showroom opens at 12:00 Noon on Saturday and 10:00 am Sunday
Sales area opens 10 am on Saturday and Sunday

Show ends at 5:00pm on Saturday and 5:00pm on Sunday
AMPLE FREE PARKING

Show/Sale is included with your paid admission

Admission Fees:

Adults and Seniors: $7 (Cash or check only)




Show Information:
Click on any topic below to obtain details on:
If you'd like to enter your orchids into the competition for amateur ribbon judging or AOS or CSA judging (not available at all shows), you'll find specifc information, instructions, and registration forms located here: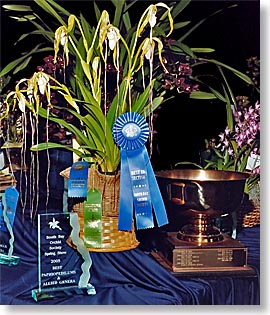 The show flyer above requires Acrobat Reader.
Click Here to for a free copy of Acrobat Reader.